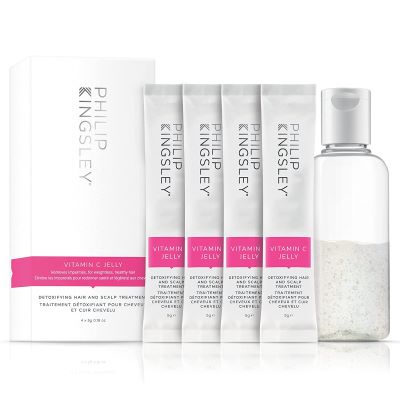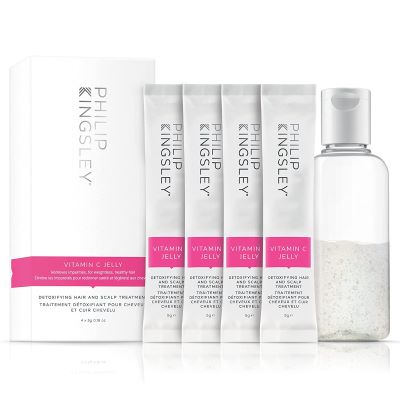 Vitamin C Jelly - Detoxifying Hair & Scalp Treatment
Clarify & detox your scalp with Vitamin C Jelly; the Brand's first powder-to-jelly, pre-shampoo formula. This cleansing treatment works not only as an antioxidant for your hair but it will also help restore your hair's natural radiance to reveal stronger, shinier hair. It gets to work in just 5 minutes.
The ultimate deep cleansing scalp treatment
Twice as effective at removing product build-up than shampoo alone*
Brightening hair treatment that restores hair's natural radiance and shine
 Hair feels weightless, smooth, soft and strong
Formulated as a powder-to-jelly treatment, our Vitamin C Jelly is easy-to-use and works in just five minutes. Add water to the powder and simply shake to make the formula. Once activated, the non-drip jelly can be applied directly to the hair and scalp from the bottle. No mess, no wasted product, just cleansed, soft, weightless strands.

Use every 2-3 weeks to remove impurities and keep hair looking radiant.
Before shampooing, thoroughly wet your hair and scalp
Empty one sachet into the applicator bottle and fill with 60ml of warm water (to the measured mark). Shake for 30 seconds to activate the formula, until a light jelly forms
Apply the jelly directly from the bottle to the hair and scalp and work in with your fingertips. Use all of the jelly, and ensure all hair is covered.
Rinse out the bottle thoroughly and keep for your next treatment
Leave on for 5 minutes, then rinse thoroughly
Follow with shampoo and conditioner as normal, using the correct Philip Kingsley products for your hair texture
NOTE: Do not use for the first 3 washes after having hair color treated.